About Your Hosts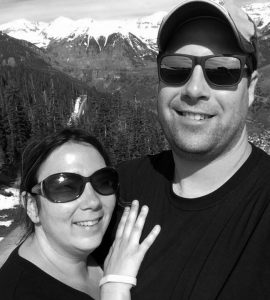 Jaime and Justin are the happy caretakers/owners of 200 Rose Street. Justin hails from Paradise, California and was shortly whisked away to Chico where he remained until he was a rowdy teenager that loved to antagonize his three younger brothers. He spent his adolescent years in Indianapolis, IN learning how to make strawberry waffles from his lovely mom, Sandy, and attending Purdue University where he would learn the necessary skills to manage a business. He has spent many years on the road running video systems for many bands, festivals and corporate events. This is how he met Jaime.
Jaime was born and raised in southern Louisiana. She was a fairly quiet and shy child for most of her formative years, unlike her very dramatic sister. Her extraordinary mom, Terry, taught her the finer points of chocolate appreciation. She went to college in Florida and learned to cook out of sheer necessity being certain that pizza and ramen noodles have no actual nutritional value. After college, she moved to Indianapolis, IN and began a career in lighting for corporate events. Also, she met that crazy guy, Justin.
After awhile, they decided to quit travelling and start a new career operating a bed and breakfast. They are both practiced in the art of hospitality and between them; they can manage to make a pretty decent pancake or two. So now they are in Georgetown, CO where they plan to spend the rest of the time taking care of their guests and the wonderful house that is Rose Street Bed & Breakfast.
Absolutely everything!!! From our room to the food. They welcome us like family. I will be back.
This was the cutest airbnb ever! Literally had a hot tub in the bedroom and had the best breakfast I've honestly had in a while. In the cutest town in the mountains with cute little restaurants and a small local brewery and coffee shops near by. We will be back!
This is the perfect place to stay during a weekend get away. The B&B is clean, cozy, and quint. Walking distance from good food and a brewery. To top it off Jamie and Justin's hospitality is bar none. My boyfriend and I instantly felt at home, and plan to return. We could not be more of an advocate.
Understanding the power of small business reviews, and outstanding ratings at that, I felt compelled to share of my wonderful experience here. My boyfriend and I planned a midweek getaway last minute and were quickly accommodated. We spent one evening at this charming and beautifully historical bed and breakfast last week and our host/ the owner Jamie was extremely gracious and sweet. She gave us a tour of the place, had fresh baked cookies for our arrival and cooked us a scrumptious breakfast in the morning. She definitely carried the true Southern hospitality with her from her hometown in Louisiana. We would recommend this to anyone stopping through town on your way to a ski resort or just as a romantic retreat away from the blunders and stresses of this thing called life. Thank you for a memorable stay!
Two nights ago my sister and I got stuck on I-70 on our way up to vail as they had closed the highway. None of the motels and inns had vacancies in Idaho springs and Georgetown. We were out of options when we called Justin, the owner at Rose Street B&B and he was so kind to take us in for the night! He was our Christmas miracle! He set up a bed for us in the common room next to a wood burning stove and went out of his way to make us feel comfortable. The b&b is perfectly located in old town, perched up on a hill and has quaint, charming details. He also offers a delicious full breakfast (pancakes, waffle, eggs and bacon!). For the price, accommodations, and the service, I highly recommend this little gem! Thanks Justin!
I cannot recommend the Rose Street Bed and Breakfast enough! My wife and I stayed in the Fall River Flat on a brief overnight ski vacation and the Rose Street B&B was in a optimal location for hitting Winter Park and Copper Mountain in the same trip. It is also situated close to downtown Georgetown and its shops and restaurants. Justin and Jaime were wonderful hosts, the room was charming and comfortable, and the cleanliness of the place was outstanding. The breakfast was also lovely. My wife and I have found our new place to stay on Skications!
This place is amazing. Beautiful house, excellent hosts, great little town. Highly recommend!
Frequently Asked Questions
House Policies
Rentals can only be accepted from persons 21 years of age or older.
Families are welcome to stay however; an adult must accompany children at all times. They must not be left alone in the house unsupervised, as there are many breakable items and steep stairs. Please keep in mind that you must climb a flight of stairs to get to the guest rooms.
Additional guests are only allowed in the Red Mountain Suite, limited to 2 guests.
Charges will be $40 per additional guest over 12.
Any reservations cancelled within 72 hours of the date of arrival will be charged 100% of your reservation.
Arrival and Departure – Check-in time is 3:00pm. Checkout time is 11:00am. We have a reasonable grace period for arrivals. If you feel your arrival will not be during normally scheduled hours, please make prior arrangements with us. Standard check-in time is 3:00pm – 7:00pm.
Following Checkout – Our rooms are cleaned, inspected and inventoried. Any damages or missing items will be charged to the guest's credit card on file.
Smoking – Due to Colorado's Clean Air Act there is no smoking inside any building in Colorado including the Rose Street Bed & Breakfast. In addition, we choose to be 100% smoke free therefore there no smoking allowed on property. A $200.00 cleaning charge may be applied to your bill if you are found to have been smoking on premises.
Keys – Keys may be deposited in the key box located in the foyer or given to the hosts.
There will be a 50% deposit charged upon booking any unpaid balance will be due at time of check-in.
The Rose Street Bed and Breakfast reserves the right to refuse guest entry and accommodation if on arrival, management reasonably considers the guest to be under the influence of alcohol or drugs, or is behaving in a threatening, abusive or otherwise unacceptable manner. Behaviors deemed as disrespectful to the innkeepers, or that affect the safety or peaceful enjoyment of other guests, will result in a request to leave the premises without refund. Guest must comply with all federal, state, and local laws as well as the rules and regulations of the Rose Street Bed & Breakfast.
Pets are not allowed at the Rose Street Bed & Breakfast.
All are welcome at the Rose Street Bed & Breakfast. Hate has no business here. Our motto is "More Good Times."